I find it impossible to introduce myself in writing to strangers, telling them a little bit about me in a way that helps them understand who I am. I worry about the  image my self-description creates.
I'm certainly not a gray-haired granny knitting booties from a rocker but I do have nine grandchildren. I don't knit, though. I try it every couple of years. My fingers are too fat. The work is mindless. The instructions are the stuff of metaphysical science and I can't understand them.
I also have a rocker on my screened front porch and I love to sit in it. Since I've had it, a pair of them actually, I've assumed they were poorly made and that the chair part was placed too far forward on the rockers, causing the chair to lean forward and the rocking back action to be a task, not a relaxing endeavor which is the job of the chairs, to relax me while I stare into the abyss.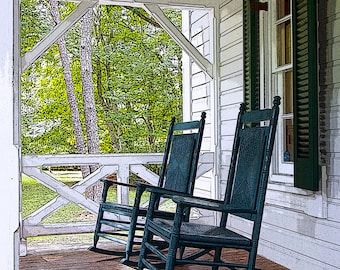 I like the chairs anyway because they look good on the porch, evoking just the mood I set out to create.
Last fall, in preparation for a hard, cold, dark, prison-like winter, I went to move the chairs into the barn for storage. During this once yearly exercise, one of the chairs happened to be turned backwards, facing the house. I plopped into it for a quick rest and to lament the coming months of cold, dreary, hateful hell in the middle of the United States. I nearly rocked ass-over-head backwards and realized at once that the chairs are constructed exactly right. My porch is sloped.
Also, my hair is not gray. I'm a Boomer. Full of vain pride and trying desperately to stay relevant in my old age.  Nice to meet you.
---
---
---
---
---
---